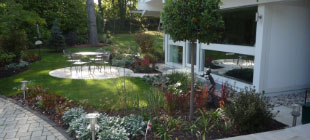 Welcome to Fisher Tomlin & Bowyer, the UK garden designers who can help you create your new dream garden. Whether you want a family garden with lawns and play areas for happy children; great spaces to entertain friends on long summer evenings; contemporary roof gardens with stunning views; or you might just want a relaxing space for you to grow vegetables and escape to your country garden. From prestigious chic city space to large country gardens, our garden designers will work with you to create a great garden, custom-made just for you.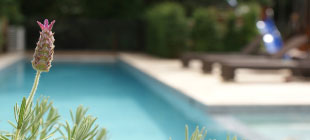 With our seamless garden design and landscape service we are uniquely placed to offer a fully integrated service with inspirational garden ideas, timely construction with a quality finish. We offer everything you need, organizing not only the garden design but also the complete construction of the garden, sourcing of plants and advising on the best furniture, storage and play solutions. You only ever need to go to one place for all your garden needs.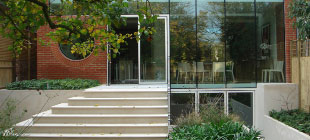 With expert care and attention a garden designer will work with you to fulfil your individual needs. You may have a small garden with a lot of shade, a need of screening for more privacy or you might have a large, open and windy site that needs more intimacy and bringing under control. You'll find lots of garden design solutions that we have created for our customers by visiting our portfolio. You can also visit our inspiration wall to see some of the things that inspire us when designing a new garden. The possibilities are endless but we'll always make sure that a dedicated professional will work with you so that we design the garden that is the perfect solution for you, on time and on budget.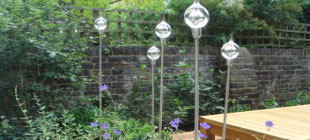 When we first meet you we'll listen to what you are looking for and will give you ideas straightaway to start building a design and a plan for carrying out the landscape construction. We'll explain our service, fees and timescales with you and discuss elements such as terraces and patios, fencing and walls, storage, water and key features as well as inspirational planting design with plants and trees for year round interest. And when it's all installed and planted we support you with simple low maintenance solutions and instructions so that you'll be able to look after your new garden easily by yourself or with the help of landscape gardeners recommended by us.
With over 20 years experience our portfolio includes traditional
large gardens
in Surrey, Sussex, Buckinghamshire and further afield; contemporary
London gardens
,
roof gardens
and kitchen gardens from our new Chobham gardens showroom in Surrey and our Wimbledon garden office in London.
Our award winning service will give you the peace of mind that you will have created a great garden with year round interest and enjoyment. Call us now and let our garden designers and horticulture specialists help you create your dream garden.